Our Milan Store Is Open For Joy
Where might you find a gaggle of sacred goddesses next to vintage bamboo furnishings and heart-pumping prints? La DoubleJ's first ever store (of course!), which is now open serving up double doses of vitamin J.

Via Sant'Andrea 10/A - Milan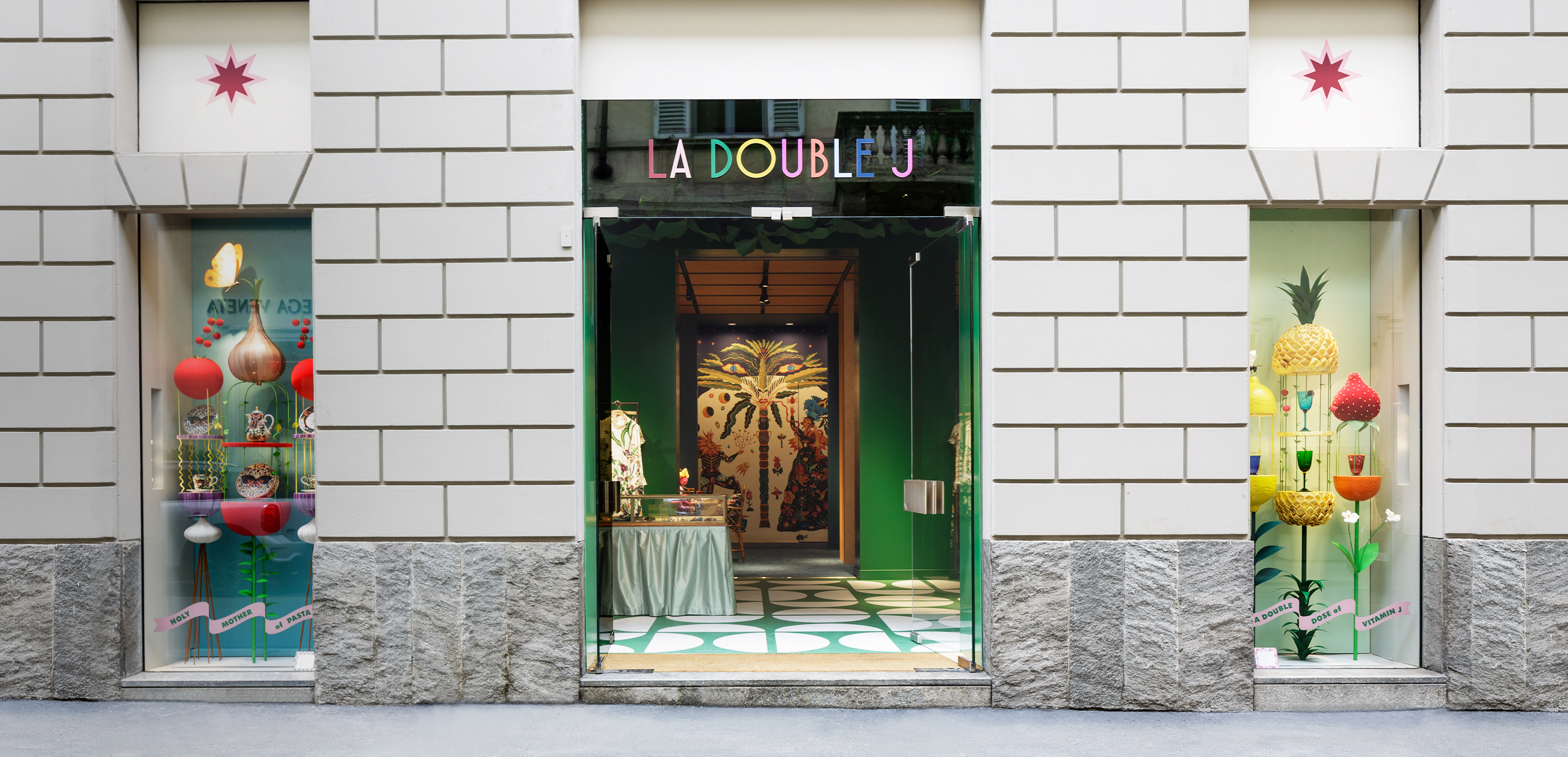 Monday 10:15 am to 7 pm
Tuesday 10:15 am to 7 pm
Wednesday 10:15 am to 7 pm
Thursday 10:15 am to 7 pm
Friday 10:15 am to 7 pm
Saturday 10:15 am to 7 pm
Sunday 11 am to 7 pm

Tel +39 02 500 30019

Sneak a peek - scroll to meet the famiglia involved in the making of our magical store and get our address in your LBB…
Get Dressed
Not only will we be stocking our latest zing-tastic collections, we'll also be offering your favorite prints and silhouettes from our archives AND exclusives, too. We'll replenish our stock every two weeks so every time you visit there'll be something new to explore. Don't forget to check out our just-launched and all-new athleisure capsule, destined to brighten up your gym bag, spin class and beyond.
House Party
Get close and personal with our bellissima homeware creations made in partnership with some of Italy's legendary historic brands. Of course, we'll be stocking our beloved printed dessert plates and porcelain bubble vases crafted by Ancap, gorgeous rainbow glassware, and 100% made in Italy table linens by Mascioni. Also clear your shelves for exclusive glass vases hand-blown in Venice by our treasured partners Salviati and only available in our Milan store.
Collaboration Stations
We're all about the power of collaboration here at LDJ so we enlisted some of Milan's most talented creatives to bring our magical lair to life. There's the Milanese do-it-all artist Joann Tan who is responsible for hand-making the giant, stone-paper lotus leaves that cover the ceiling as well as the explosion of print and flowers in the windows. Local Italian artists hand-painted our flooring to recreate a vintage La DoubleJ print, the designer Cristina Celestino for SABA Italy made our sofa, meanwhile Raw Milano sourced the most incredible vintage furnishings (you've got to see our antique bar cash wrap). The whole shebang was overseen by the interior architects Paolo Badesco & Partners (while our dogs ran wild under the conference table at every meeting), including the juicy emerald green interior that wraps around the ready-to-wear room. Collaboration equals inspiration, si?
Into The Sacred Grotta
Downstairs you'll find our Sacred Grotta, a magical sanctuary (yes, it's been energy-cleared and blessed with crystals) conceived as a studio to help you guys fall into an experience of connecting to your feminine energy (a wild, fertile, receptive, deeply creative state of consciousness that most of us are too busy - running, doing, pushing, pulling and talking - to tap into) through our expert-led LDJ wellness workshops and live streams. So far our digital events have included pranayama workshops, heart-opening meditations and psychic deep dives. Now, everyone's invited in the flesh - dogs too!
Goddess Central Station
J.J. commissioned the wildly talented Romanian artist Aitch to hand-paint a magical scene of goddesses, archangels and alchemical high priestess across our walls in a full-blown celebration of feminine energy. Ladies, meet Isis (goddess of abundance), Archangel Ariel (angel of courage), Quan Yin (divine feminine energetic of unconditional love) - plus more waiting for you in our Sacred Grotta.
Meanwhile, Shop Your Heart Out