Cristina Celestino
If you've had your ear to the ground around Milan's design scene in recent years, you've surely heard a fair share about interior and furniture wizard Cristina Celestino. That vintage tram circling the city during Design Week, decked out like an old school movie theater? That was her. Those powder pink Sergio Rossi shops making waves on Instagram right now? All Celestino. The gorgeous side tables shaped like stud earrings made in collaboration with Fendi that sparked a frenzy at Design Miami two years ago? You guessed it. Cristina Celestino isn't just on our design radar, she's operating at a whole new frequency.
Photography: Alberto Zanetti — Styling: La DoubleJ Team — Words: Laura Todd.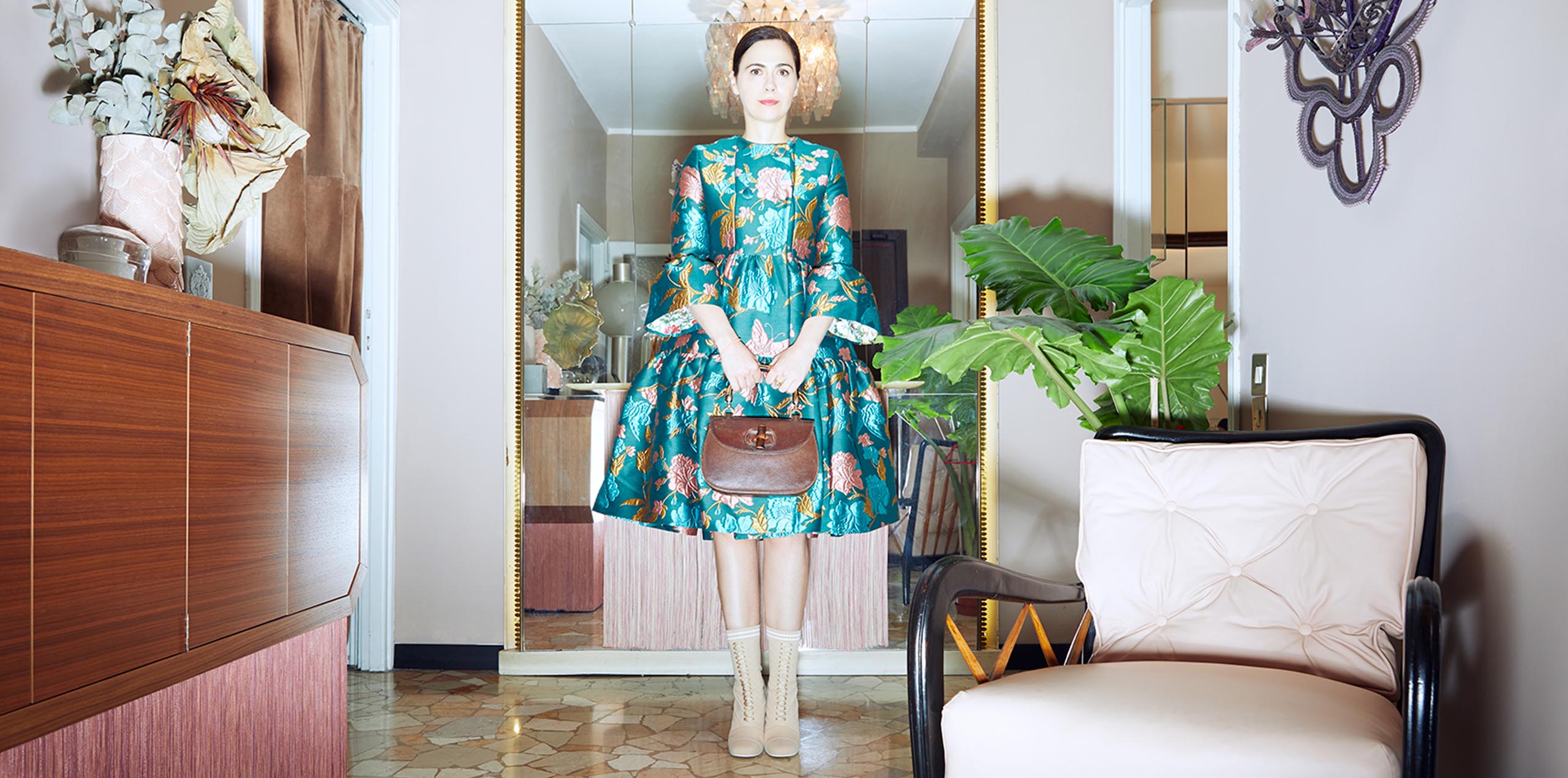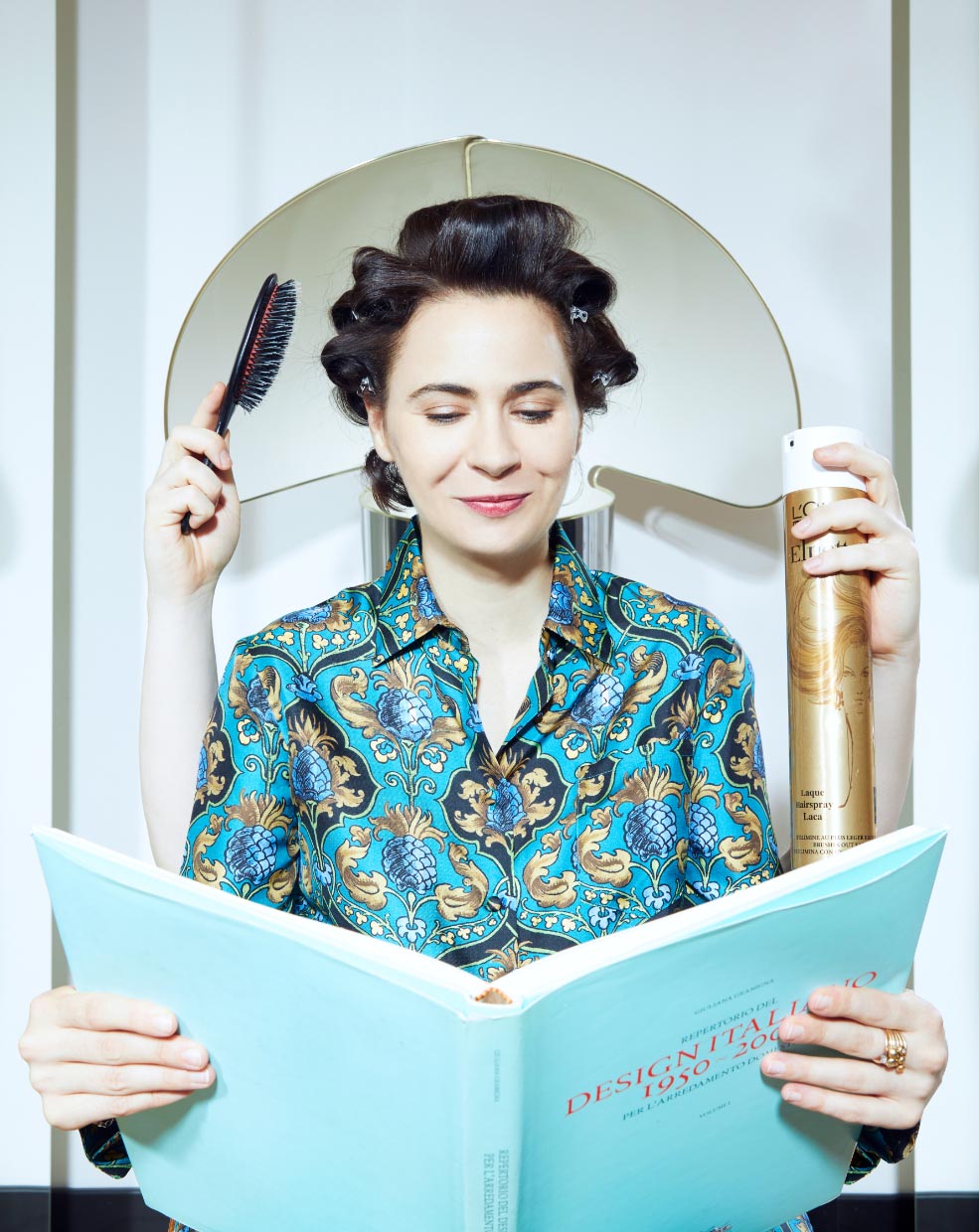 Born in Pordenone in Italy's Friuli-Venezia Giulia region, Celestino trained as at architect at Iuav University in Venice before moving to Milan nine years ago following short stints working in Florence and Rome. "I'm an architect," explains Celestino, wearing a pink Libellula patterned La DoubleJ Happy Wrist Top and matching Palazzo pants that look as though they could live happily alongside the much-Instagrammed surfaces of Celestino's interiors, "but I started my career in design and interiors as a collector." .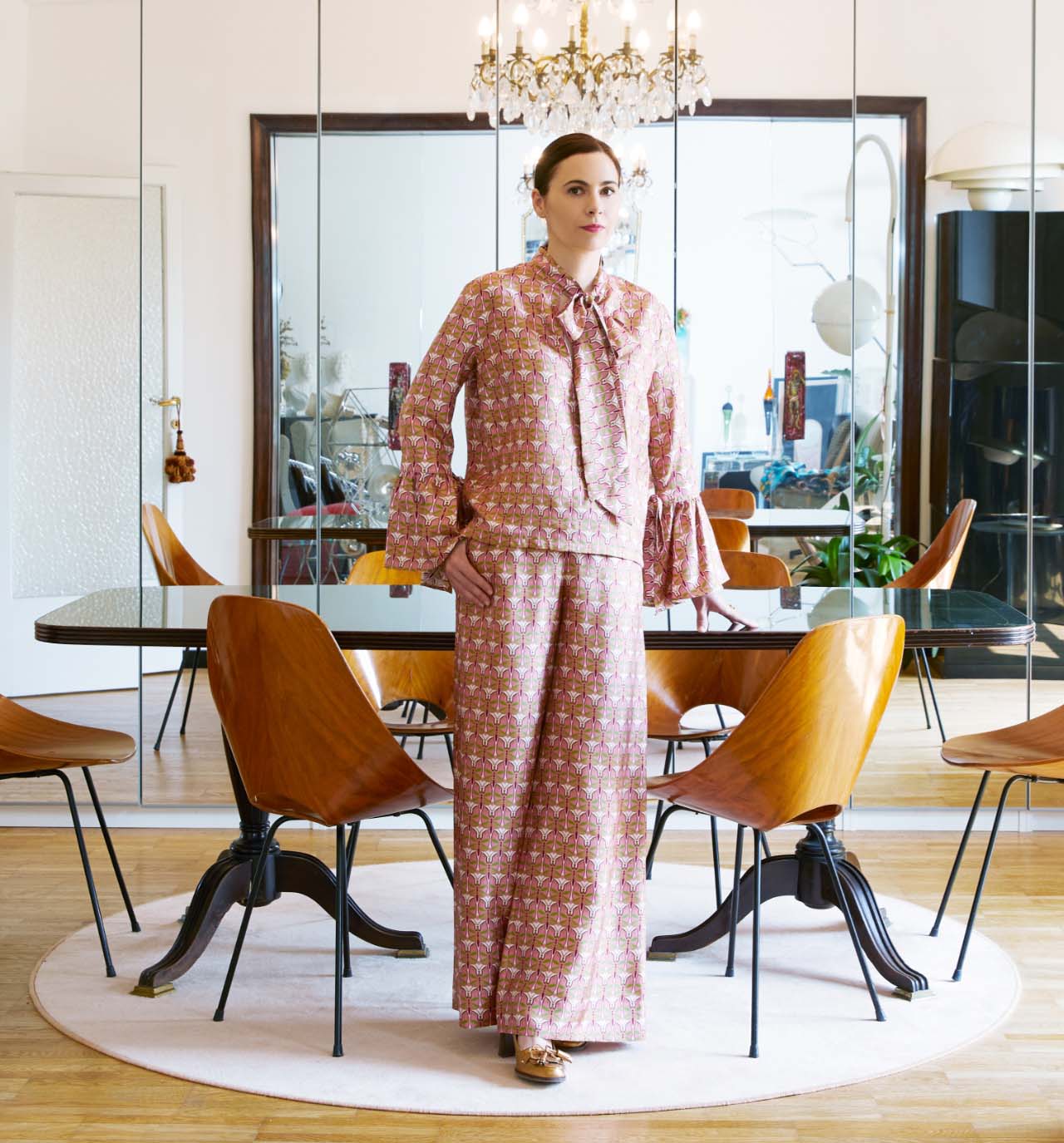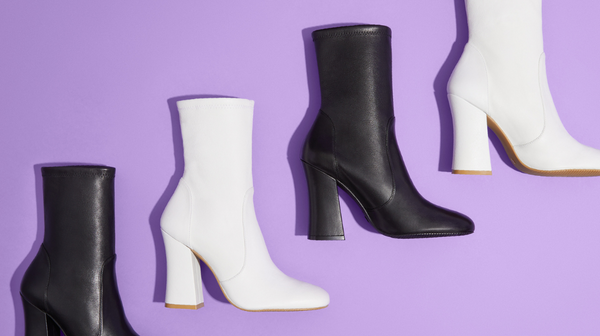 "I'm an architect, but I started my career in design and interiors as a collector"

Her house, bathed in sunlight and overlooking a leafy residential street, reads like a peek inside the sought-after designer's brain. Window ledges are scattered with pale pink shells, a motif that has shown up in recent collaborations with ceramics producer Fornace Brioni. There are prototypes and samples from her myriad of recent projects and collaborations: dainty Borosilicate blown glass sculptures in the shape of vintage perfume bottles; vase-slash-aquariums that at first glance appear to be complicated and colorful totems, but when flipped around reveal themselves to be cartoonish fishing rods; vintage furniture wrapped in flowing fringe to hide its less aesthetically pleasing components; belljar pedestals, designed for her own brand, Attico Design, housing more treasures; slabs of printed marble from a collaboration with Fujifilm. "It's spontaneous," describes Celestino of her jam-packed house, "a mix of my vintage design collection, my own work, some new pieces that I love and even Ikea."
Snooping around her home, it's clear collecting comes naturally to Celestino. According to her, she caught the bug as a student, studying old auction catalogues and vintage design books until she had amassed an encyclopedic knowledge of Italian furniture. She would then set off into the flea markets of Florence and Rome to score hidden gems that were overlooked by even the most eagle-eyed vendors. "The people selling some of these pieces didn't even know their value," she says of her hunting technique, "if you study the pieces and can recognize them on the spot, you can find incredible things." Eventually, she graduated to the auction circuit, and started hanging around Rome's Pandolfini Auction House. "It was really competitive, the entire building would just be full of middle aged men," she jokes, miming jumping up and down with an auction paddle in her hand, trying to be seen amidst the crowd, "and me, right in the middle." Her buying strategy was simple: when possible, find furniture in multiples and resell the extra pieces to fund the next purchase, eventually amassing the exceptional collection that fills her home today.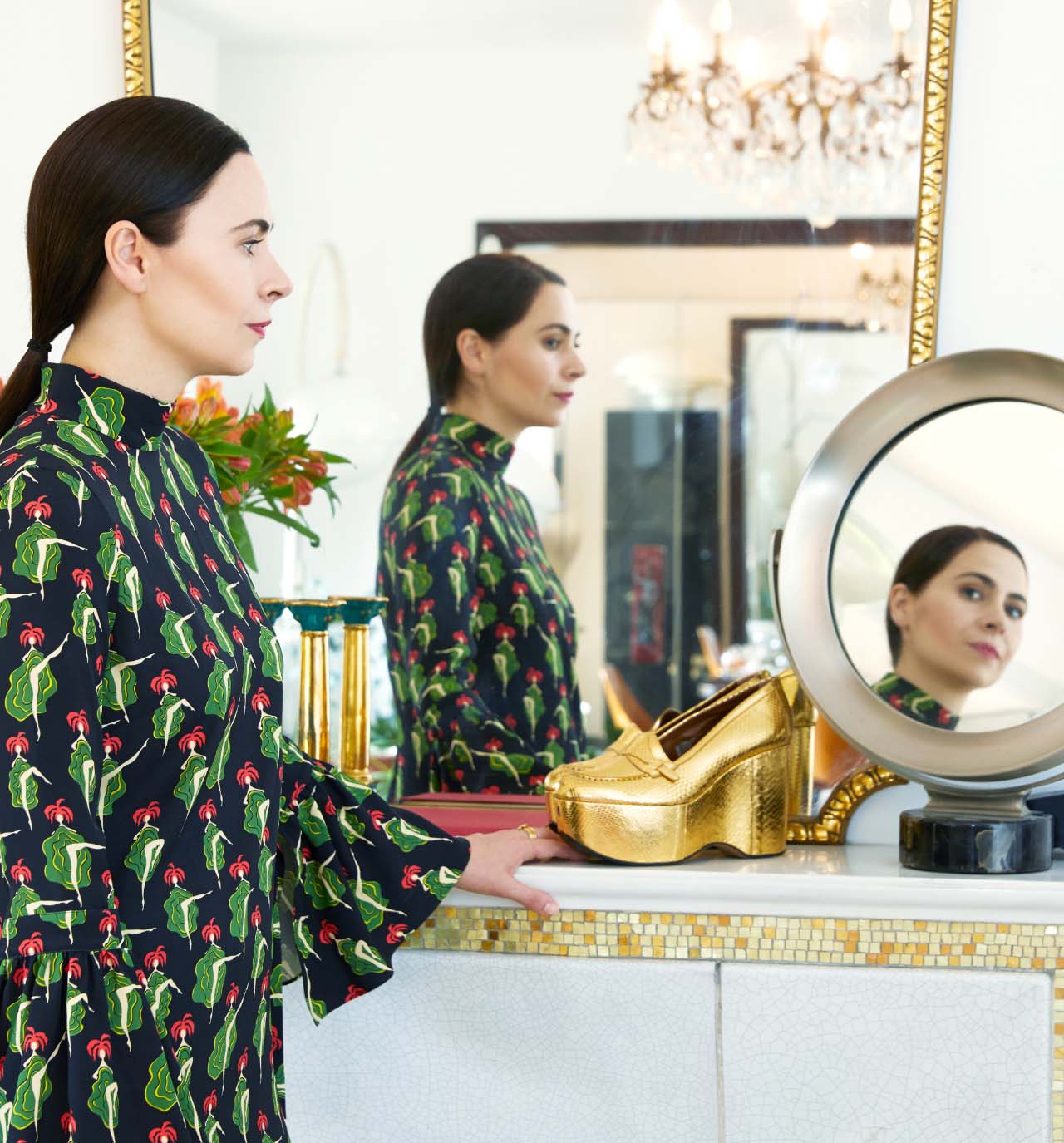 And what a collection it is. Museum-worthy design pieces are stuffed in every corner, from super low original Jo Colombo armchairs for Kartell from the 1960s, to egg-shaped dining room seating in moulded plywood by Vittorio Nobili, to a serious sampling of Osvaldo Borsani's greatest hits (more on that later) and a lighting collection that can only be described as blinding. Big bulbous balloon-like Kartell lamps, also from the 1960s, a Mario Bellini 'Chiara' from 1965 — which vaguely resembles carnivorous Pitcher Plan done up in aluminum sheeting — and a rare marble-bottomed Sormani that cantilevers out over the living room like a dangling orchid. Her collection of furniture by Milanese master Osvaldo Borsani — a mechanical-looking sofa and armchair set, a wide dark wood dining room table with delicate inlay, a curving wrought iron coat hook, ceramic door handles with hand formed figures, the mosaic tiled fireplace and a floor-to-ceiling mirrored console in the entranceway — came about quite by accident. "I visited the retrospective dedicated to Borsani at the Triennale [Milan's design museum]," says Celestino of the serendipitous discovery, "and saw all the furniture in my house in the catalogue! I knew the manufacturers of the pieces, but had no idea it was by his hand."
Despite finding the lion's share of her collection in the markets and auction houses of Florence, Turin and Rome, Celestino insists that the best place for a design obsessive to be based is Milan. She cites the Triennale — where she discovered the Borsani cache — as well as Villa Necchi Campiglio — a perfectly preserved 1930s-era rationalist style home by Piero Portaluppi — as her favorite places to spend an afternoon. Less well-known, but just as enthusiastically proffered is Villa Litta Lainate, a Renaissance-era villa with a jaw-dropping ornamental garden. "There is always something good to do in Milano," Celestino adds, listing off her favorite places to go: Fondazione Prada, Palazzo Reale, the new bar at the Senato Hotel, Navigli-side restaurant 28 Posti, "when I'm not working." But with all the good things that bubble out of Celestino when her nose is to the grind — it's no surprise she never stops. We can't wait to see what's next.
Shop Cristina Celestino Selections