Maria Host-Ivessich
Directorial Wunderkind Maria Host-Ivessich on Going From Model to Maestro, Collecting Niche Perfumes and Rebelling (Fashion-Wise) From Her Sciura-In-Chief Grandmother
Photography: Alberto Zanetti — Location Photography: Mattia Iotti
Make-up: Francesco Mammone — Words: Laura Todd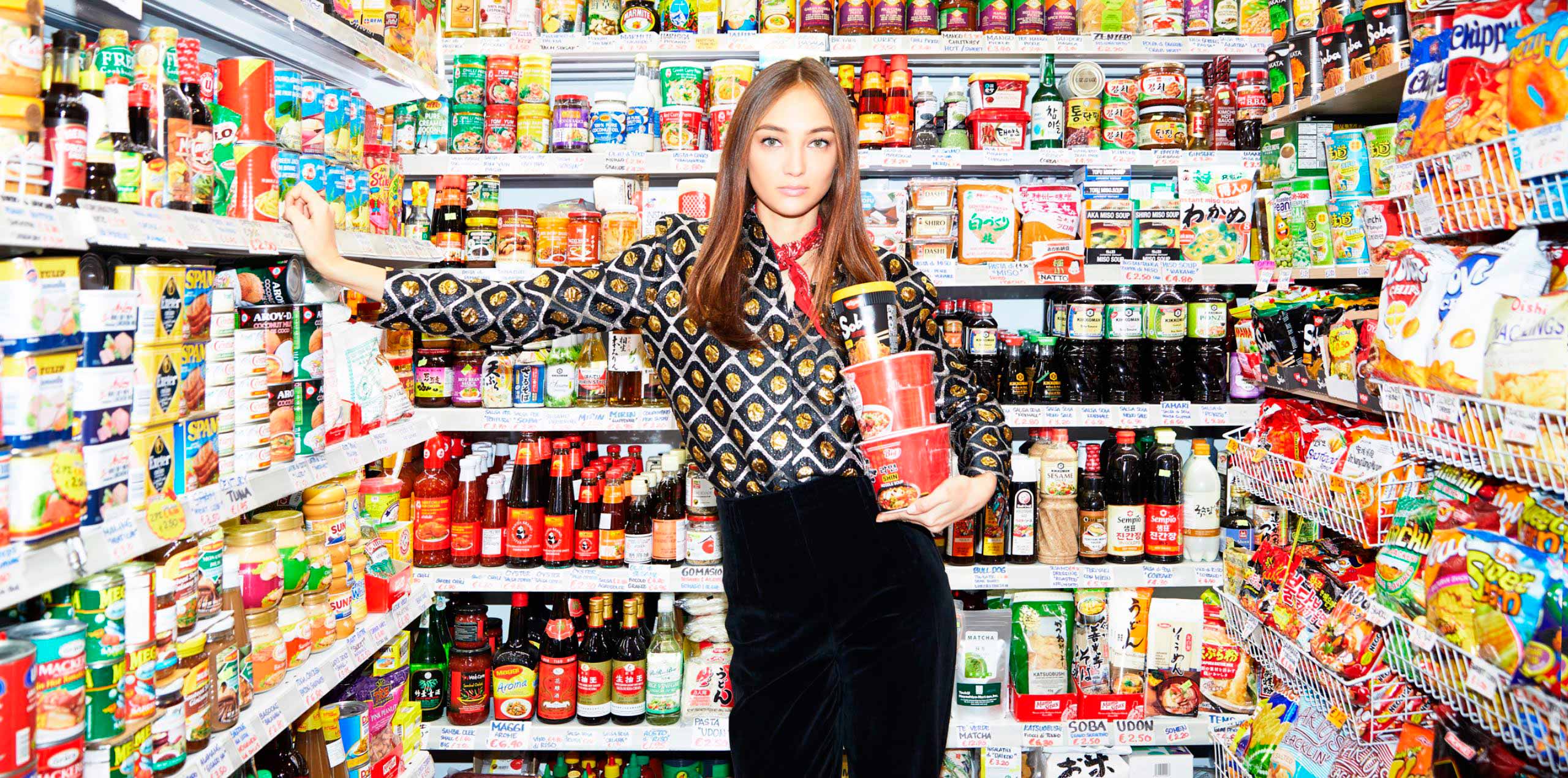 In the past few years, Milan-born director Maria Host-Ivessich has been churning out some of the fashion world's most talked about creative projects. One half of the buzzy fashion film directorial duo Marco + Maria, Host-Ivessich's resume includes dropping Gaspar Noé muse Aomi Muyock into the Portuguese hinterlands for Prada, traveling to New Canaan Connecticut to capture top Italian model Mariacarla Boscono in Philip Johnson's architectural marvel the Glass House for Bottega Veneta and most recently, hyping up all-new Netflix program 'Sex Education' with a silly British slang explainer starring the show's charming cast. Among other projects, of course; it's been a busy few years.
Host-Ivessich's work corners the market on subtle, ironic beauty mixed with tongue-in-cheek humor — a description that could easily be transferred to her Tortona-district home. The cozy two-room ringhiera-style apartment (a typical Milanese-style flat known for wide courtyards and iron-rung balconies) hosts both Maria and her milky white kitten Ludmilla. As soon as we sit down to chat, Ludmilla — a frenetic, furry ball of chaos — immediately prompts a shrieking 'NO!' from her owner. She has pounced directly into a forest of glass vases and ceramic knick-knacks clustered on the short glass coffee table in the living room — placed there in preparation for the day's shoot — and is weaving around the crystal like a slalom racer.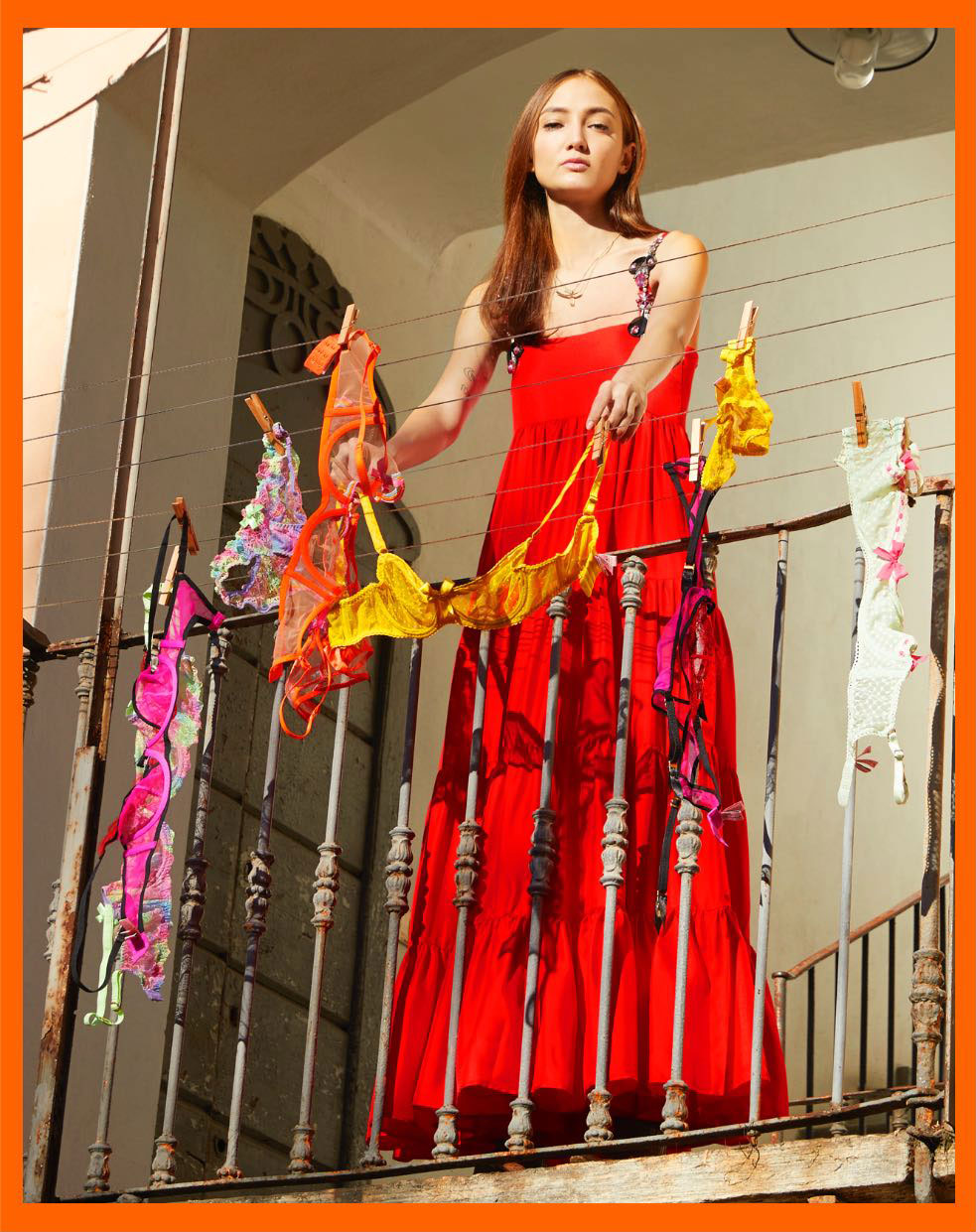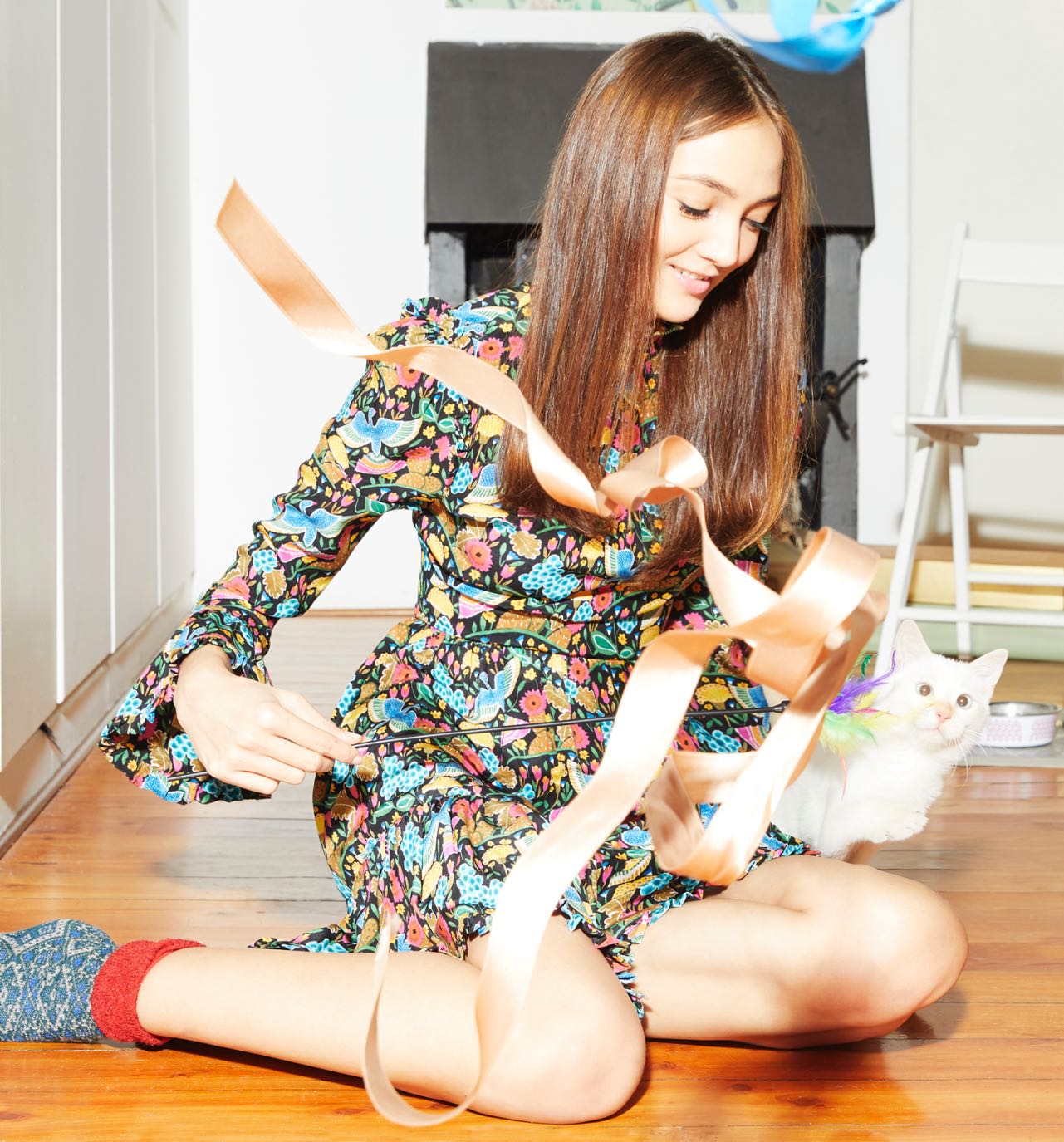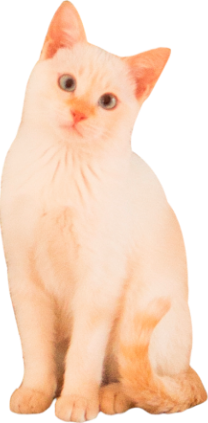 The treasures a rambunctious kitten can discover in the apartment are vast: piles of books to climb over, mostly on subjects of anthropology, food history, astrology and the occult (a favorite subject of Host-Ivessich's); vintage kimonos hung artfully from walls and doorframes to swat at, souvenirs from the avid vintage-hunter's trip to speciality fairs in Italy and abroad; an old suitcase full of dainty lingerie as delicate as spun sugar from indie designers like Lonely and Only Hearts on which to sharpen claws. High atop the bedroom dresser — just out of reach — sits a collection of niche perfumes in sparkling glass bottles Host-Ivessich sourced from shops in Rome and Milan.
Host-Ivessich is at the top of her game these days — but it took a few zig-zags within the fashion industry before she found her place. "I started modeling at fifteen, but it wasn't really my thing." For Host-Ivessich, the atmosphere was exciting, but being a clotheshorse did nothing to stoke her creative fire. She eventually quit while still a teenager and enrolled in fashion school with the intention of becoming a stylist. "For my thesis I had to do an editorial project, so I decided to make a film," she describes of her eureka moment that finally set her on the right course. "My job was to take care of the clothes, but I became totally obsessed with making the movie: the setting, the story, the vibe, all of it. I completely forgot about the outfits: we were shooting next to the water and they ended up getting soaked and ruined. But I loved it." It was also the first collaboration with her directing partner Marco Adamo, whom she still works with today.
"I'm way more into comfortable, kind of masculine clothing now, I almost never wear heels."

Despite the pivot to filmmaking, Host-Ivessich has kept the fashion world close. She is, after all, a descendant of what we like to call the Solari Dynasty. Her grandmother is none other than Head-Sciura-in-Chief (and one of our Legendary Ladies) Pupi Solari: proprietor of her eponymous shop, the much-adored bastion-of-understated-Milanese-style. Known amongst the well-heeled set for her impeccable, toned-down Bonton style, Solari is most famous for the strict edicts she issues on the proper way children should dress. Her progeny first and foremost.

"When I was really little she used to dress me like a college boy in a velvet blazer with my hair cut super short, everyone thought I was a boy," Host-Ivessich explains of her grandmother's iron-fisted sartorial rule. "Or, they would send me to school in Levi 501s and a starched white shirt. It was a disaster, nobody my age dressed like that. As soon as I was allowed to dress myself I totally rebelled. I would go to school in Dr Martens and ripped fishnet tights. I went through a phase of wearing only hot pink. She was desperate in those days," she laughs, burying her face in her hands at the thought of her mortified grandmother. "She wouldn't even look at me."
Much to the relief of her family, Host-Ivessich's fashion sense has since relaxed significantly: "I'm way more into comfortable, kind of masculine clothing now," think: vintage denim, good knitwear, leather boots, "I almost never wear heels," she says of her tomboyish style. On special occasions, she'll bust out vintage gems sourced from Milan-based treasure troves Delphine or Cavalli e Nastri. She also takes cues from her mother, Sunny, a Dutch-Indonesian transplant who also works in the family shop alongside her grandmother and runs her own spot, 143 Showroom. "She has a great sense of style," Host-Ivessich says, "she dresses like an eccentric British man — like a Dandy. She'll match a yellow turtleneck with tartan pants, but make it look extremely elegant."

As for her own fashion edicts? Unlike her hardline grandmother, the only rule these days is simple: "It's only a mistake if you're not having fun."