The Art of Entertaining in Sicily
We all have that one friend or relative who has been on holiday in Palermo and came back totally transformed. Besides the additional five kilos gained over the span of one week and the blatant African tan – that person glows from a uniquely majestic light whose source probably entails panelle and whole days of sunbathing, but really has its stem in Sicily's most valuable treasure: the Sicilians themselves. Magical creatures born to entertain and deep fry whatever food is laid down their path in the most perfect amount of oil, Sicilians will make their home your home, their pantry your pantry and, with regard to our host to Mario Dell'Oglio, their store your store.
Photography: Alberto Zanetti — Styling: Gaia Fraschini — Words: Andy Ferrario — Special Thanks: Mario Dell'Oglio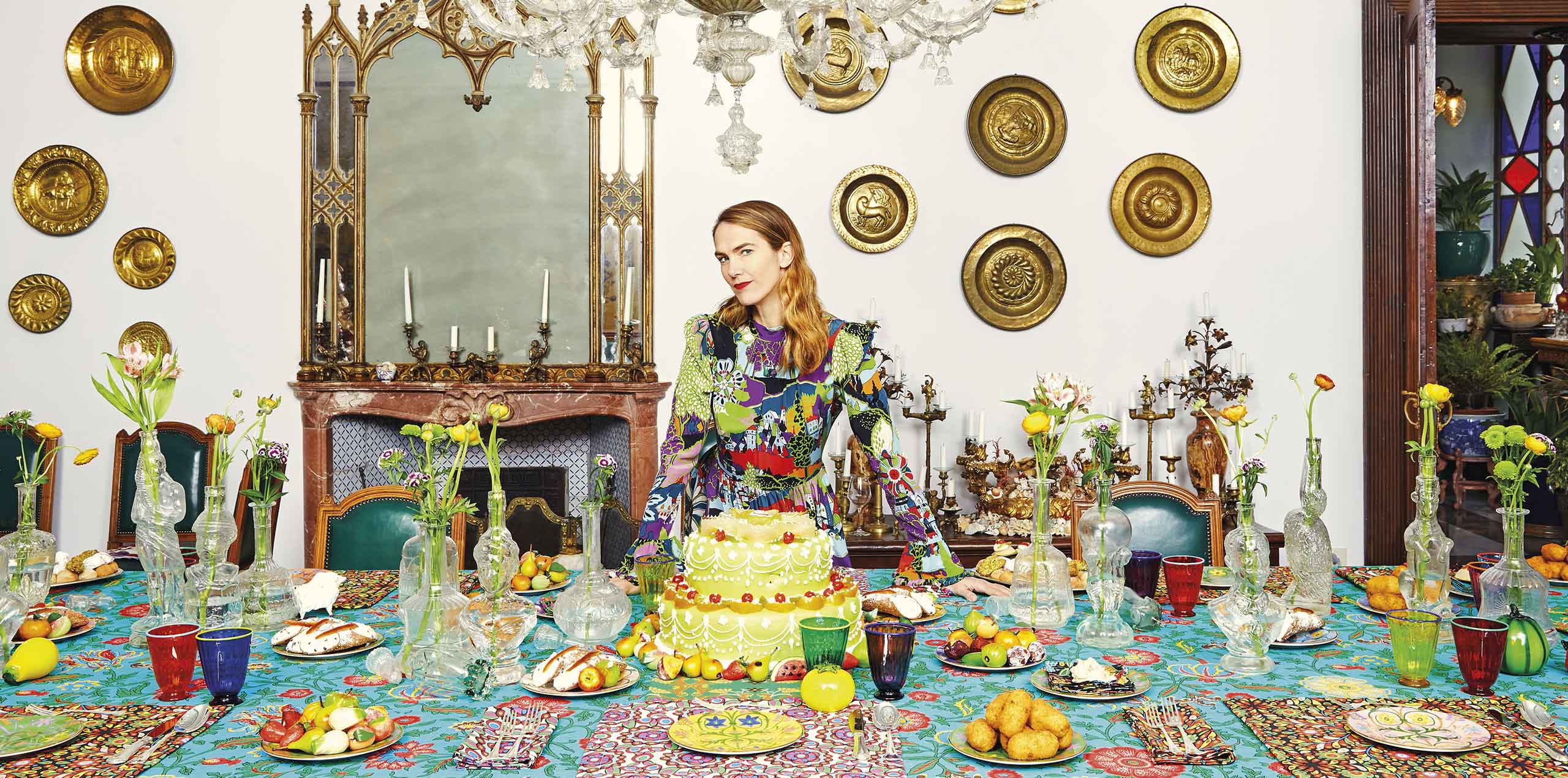 For the launch of our remarkably special pop-up, Signore Dell'Oglio, also known to us as"Super Mario", had us over for two days of feasting in a glorious palazzo with the city's most enchanting hostesses and down in the gritty center of Palermo's rolling marketplaces with its fiery locals – an adventure which ended up proving one thing: if there really were such a thing as the perfect match, the Milanese and Sicilians would be the first pair in line. Dell'Oglio, whose family has been in this city for the last five centuries and whose own eponymous boutique hosted a pop-up shop for La DoubleJ's colorful wares, was also our own Virgil to Palermo's plush secret stash. What follows here is an account of our feast, what we learned from Palermo's most legendary ladies, and why Sicilians are clearly the raddest hosts in the Mediterranean.
What We Ate
First stop was a lesson in the kitchen, where we learned the fine art of panelle. Panelle are Sicilian fritters made from chickpea flour that are often eaten on a roll, but we tasted au naturelle 'cause we like our kitchen radical. As with every successful beauty routine, what makes panelle taste like heaven is the oil, which needs to be just right in terms of quantity and consistency. We got our hands-on tutorial on these mythical, mouthwatering Sicilian treats in the kitchen of the Palazzo Pantelleria by Super Mario's magic chef: Roberto Alia. But really every woman worth her panelle in Palermo knows how to make these with her eyes closed.
Caponata is another delicacy that had us walking on air, though realistically half of us were slumped on couches after a 5 hour eating act. It's a veggie dish of aubergines, tomatoes, raisins, capers and pine nuts served with toasted ciabatta, whose brand image is so unparalleled that it even has its own Wikipedia page. Last but not least are cannoli, pastries with a sweet ricotta filling that are said to be portals to the heavens. And don't forget the ricotta-filled cassata; ours was five-tiered and laced with mint green frosting and enough sugar to keep Sicily's ancient armies up for a week.
How We Cruised
Palermo, we discovered, is a small enough town to walk across on your darling foot. But if you need a set of wheels after non-stop party fluttering, the best way to get around is the convertible ape taxi – the most popular three-wheeled vehicle in Italy's automotive history.
What We Saw Inside Palermo's Secret Interiors
Legendary ladies here marry men with good taste. They live lives of beauty and fine arts. And they are all the mistresses of homes with ceilings so high they could fit a family of elephants. All of that space means you can cram the heck out of your rooms with amazing knick-knacks that have been around for fourteen centuries. The previous owner of the palace where our feast was held covered one room's walls with decoupaged dried flowers – not one sad bouquet mind you, but an entire wall full. We also learned from these Sicilian maestras that coral is more valuable than gold. The magical orange underwater bloom not only pairs marvelously with each garment in every girls' closet from 1999 to this very day (move over, Cartier!), but also served as lucky-charm to nannies of centuries past.
During our stay, we were lucky enough to meet a ballroom full of elegant ladies and to sit vis-à-vis with four in particular – real sciure palermitane who call Palermo their home. These are the women who keep the ancient city's social fabric together, are at every lavish party and know the inside-outs of what it means to entertain like a true Sicilian. So whether you are planning a bubbly evening or are simply on the lookout for new exotically delicious recipes or hosting tips, take your cue from them.
Gaia Palma:
The Queen of Hostesses
When Gaia was about to enroll at university, she was tricked (to quote her words) by her grandmother to stay in Palermo and start looking after the family house instead, if only for a short time. The home was a good deal greater than a regular Palermo flat. In fact, it was the mythical Villa Chiaramonte Bordonaro ai Colli, an abode with countless sitting rooms filled with gold-rimmed plush furniture and a garden whose owner is only too modest to address as park.

In the end, she never left for school, but those were the years when she mastered the art of hosting and guest management: from how to avoid making the house reek of a London fried chicken joint to how to perfectly strategize the room setup based on time and temperature (you wouldn't want to have your guests melting in the scorching July sun, would you? Puddles don't make great chatters after all). Her party uniform is a long printed dress with a monochrome base (we see you, #LDJBabe!). Among her go-to dishes to serve at parties is Trionfo di Gola (literally "gluttony triumph"), whose name fits this tiered sponge cake with cream, sweet ricotta, apricot preserves and jelly just right.
SHOP GAIA'S LOOK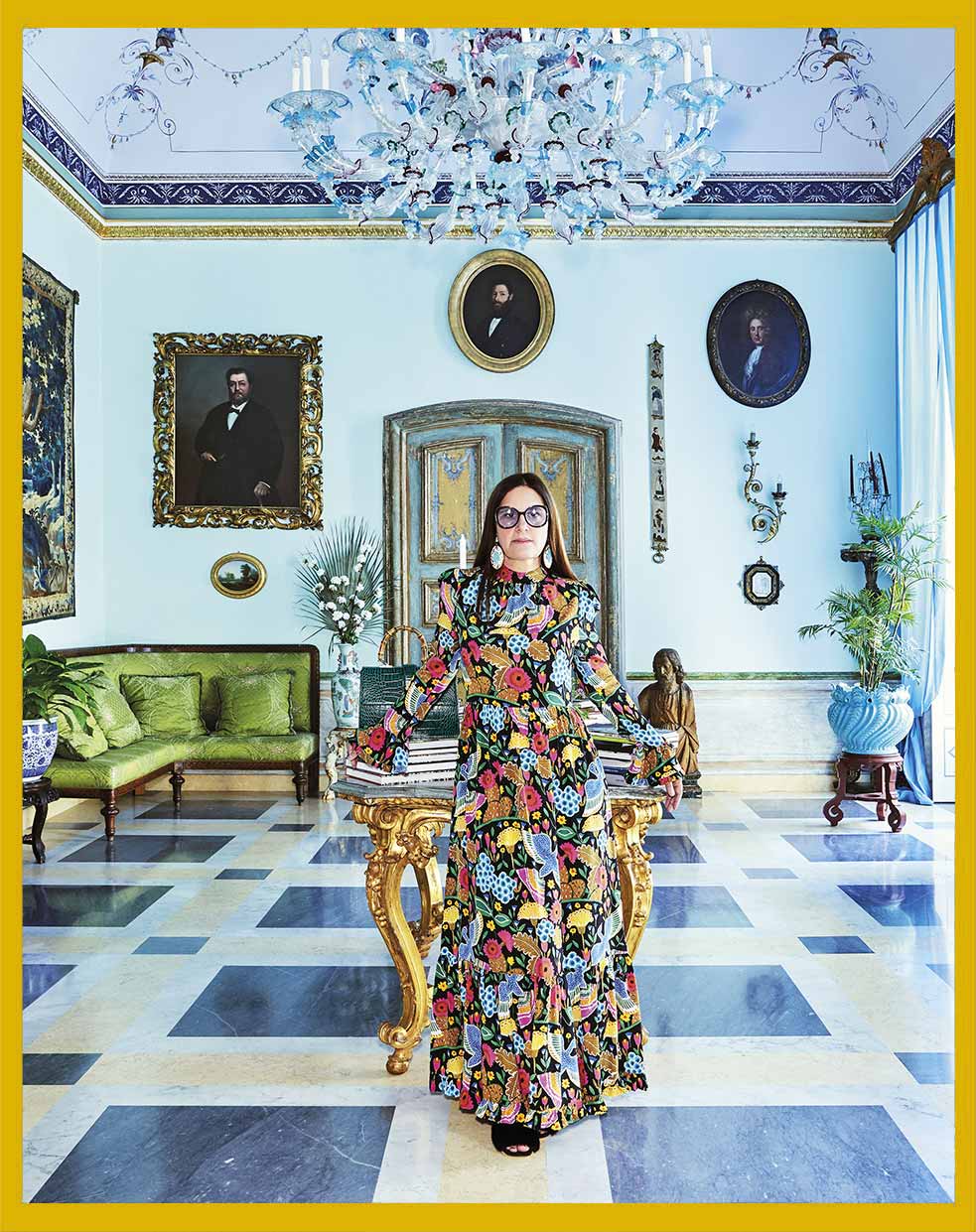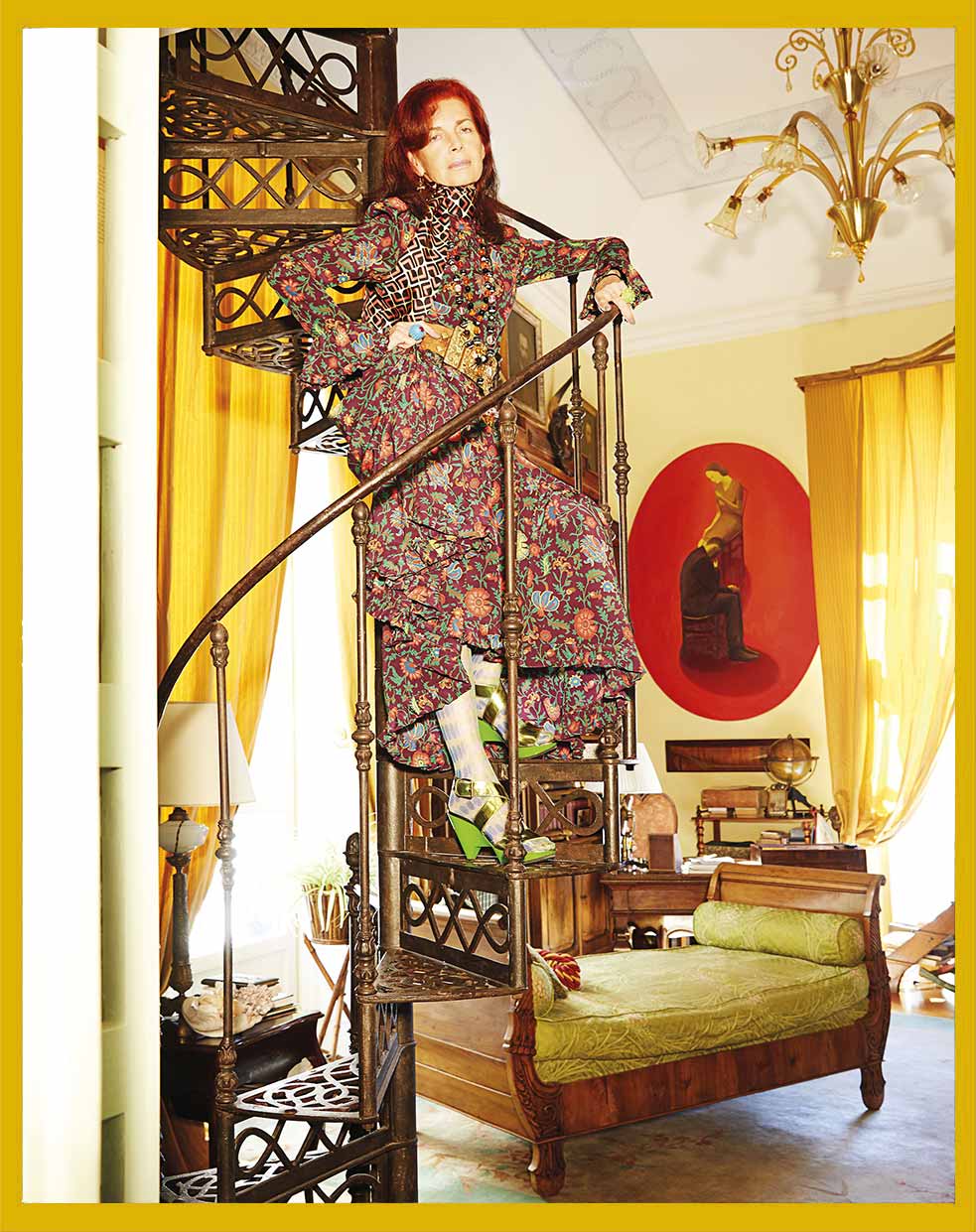 Nathalie Hambro:
A Chic Stranger in a Stranger Land
If you find yourself at a party in Palermo and start experiencing a strong pull towards the velvet couch, you'd better be on the lookout for an exquisitely dressed red-haired lady, whom you might be lucky to find there, seated politely. She goes by the name of Nathalie Hambro and is easily the chicest half French half British lady residing in Palermo, where she moved two years ago. "Everything here is done in the sun" – Nathalie remarks, hinting at the universally unacclaimed London weather – "What I like the most is the everyday contact and the old negozios," which are Palermo classic shops and little bottegas where the signora is greeted by name and everyone knows exactly what she wants.

We learn that she gets her caponata from the shoemaker's wife and that in the café on the hill a granita is always ready for her, before she even opens her mouth to ask for me. Nathalie recalls, of the first time she visited the city two years ago, "I came for three days and I was ready to stay!". Shortest long love story ever. Her tip on how to be a great hostess is actually for the attendees: "When you are invited, you should always arrive half an hour later" – in Palermo, timetables are for the very boring and very sad.
SHOP NATHALIE'S LOOK
Franca Tasca:
The Winemaker
Franca Tasca's glass is undeniably always full. Villa Tasca, Franca's Palermo family mansion, was built in 1840 on 1200 hectares of land, and her family has been producing absolutely amazing wine ever since. Franca regularly reenacts the Mad Hatter tea party in her garden for her guests at breakfast and loves delighting her visitors with a new dish every time. It doesn't come as a surprise that Pilaf rice alla Tasca was named after her, in praise of her phenomenal cooking skills and creativity.

SHOP FRANCA'S LOOK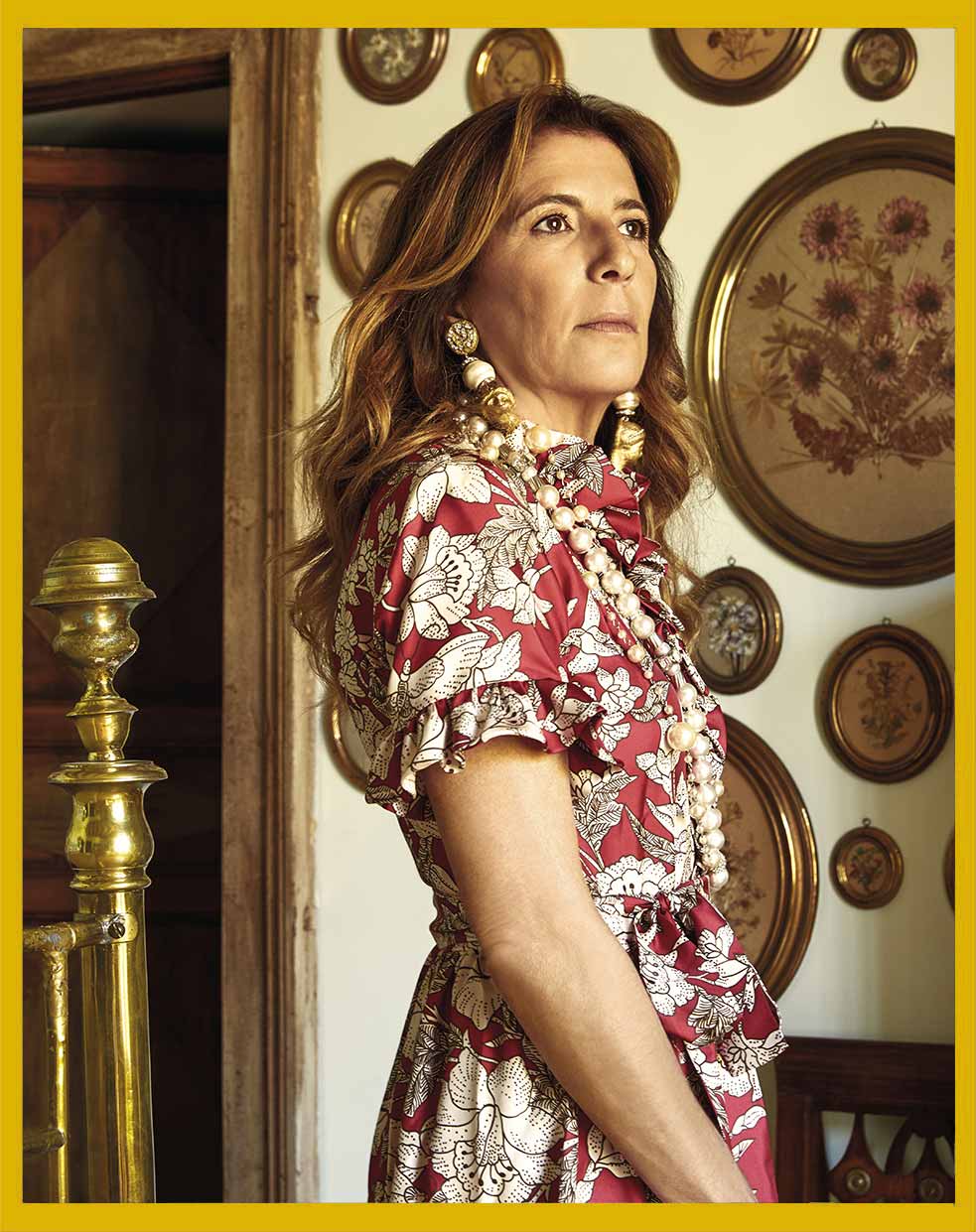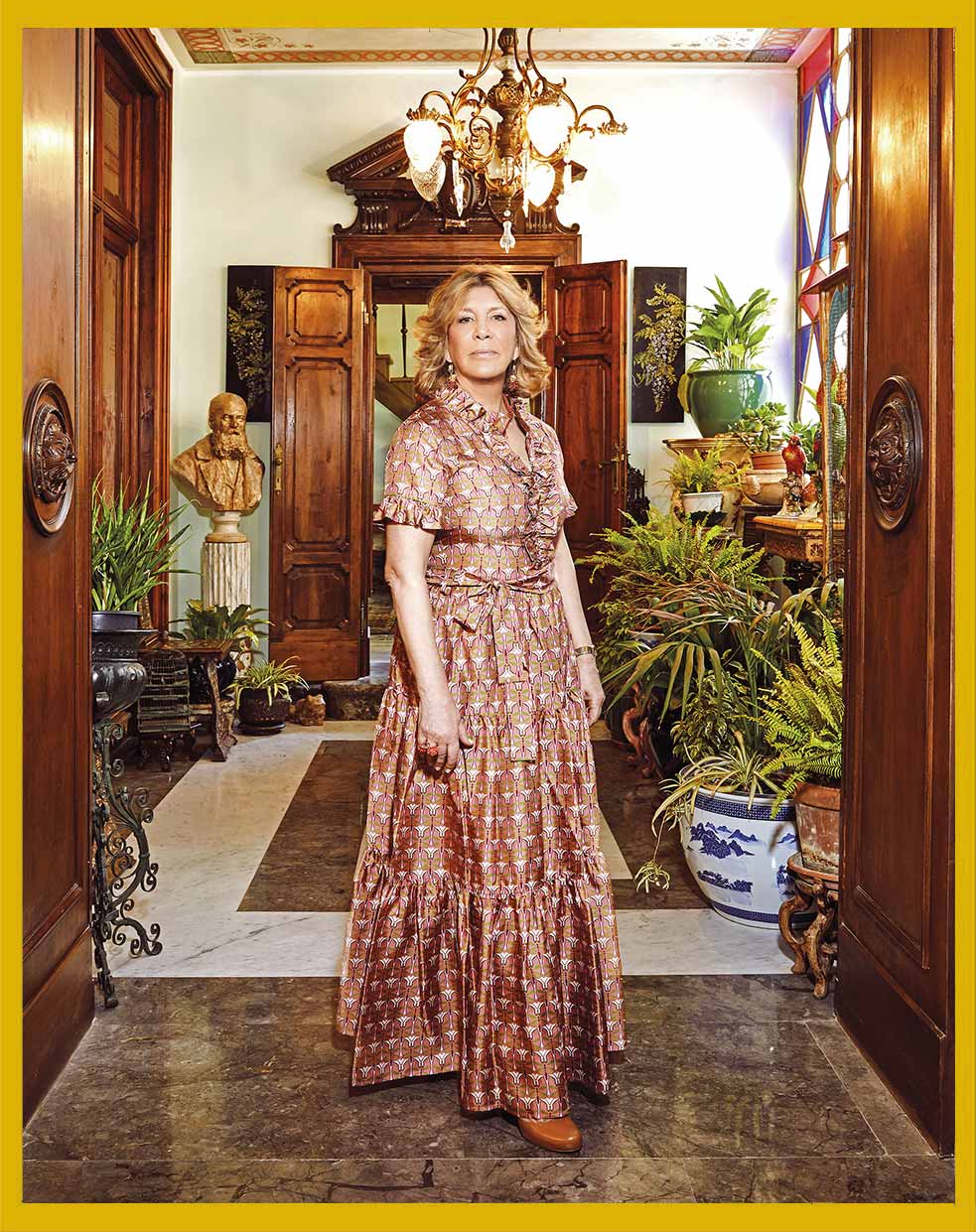 Antonella Bordonaro:
The Party Babe
Over thirty years ago, this Sicilian sciura felt like it was about time to spice things up by throwing some parties in her home sweet home, Villa Chiaramonte Bordonaro alle Croci. While the opening of her palazzo to the public did delight several dancing souls, it was also cause for scandal among the more uptight Sicilian bourgeoisie. Her most successful evening was the 18th birthday party of Pierre D'Arenberg's daughter, for whom she personally prepared the Sicilian game pie – a recipe that was first conceived for the famous Sicilian king Frederick II, alongside a lobster soup served in tiny pumpkins like "the ones you see in Cinderella", stresses Antonella. Her sacred rule of parties: don't be on time (ring any bells?) and always bring more booze that you need.

SHOP ANTONELLA'S LOOK