Good Golly, It's Miss Molly!
The Milan-via-London based fashion designer on her eye-wipingly hilarious moments as design director of La DoubleJ, work friendships and pasticcini.
Photography: Henrik Blomqvist – Make-up: Francesca Angelone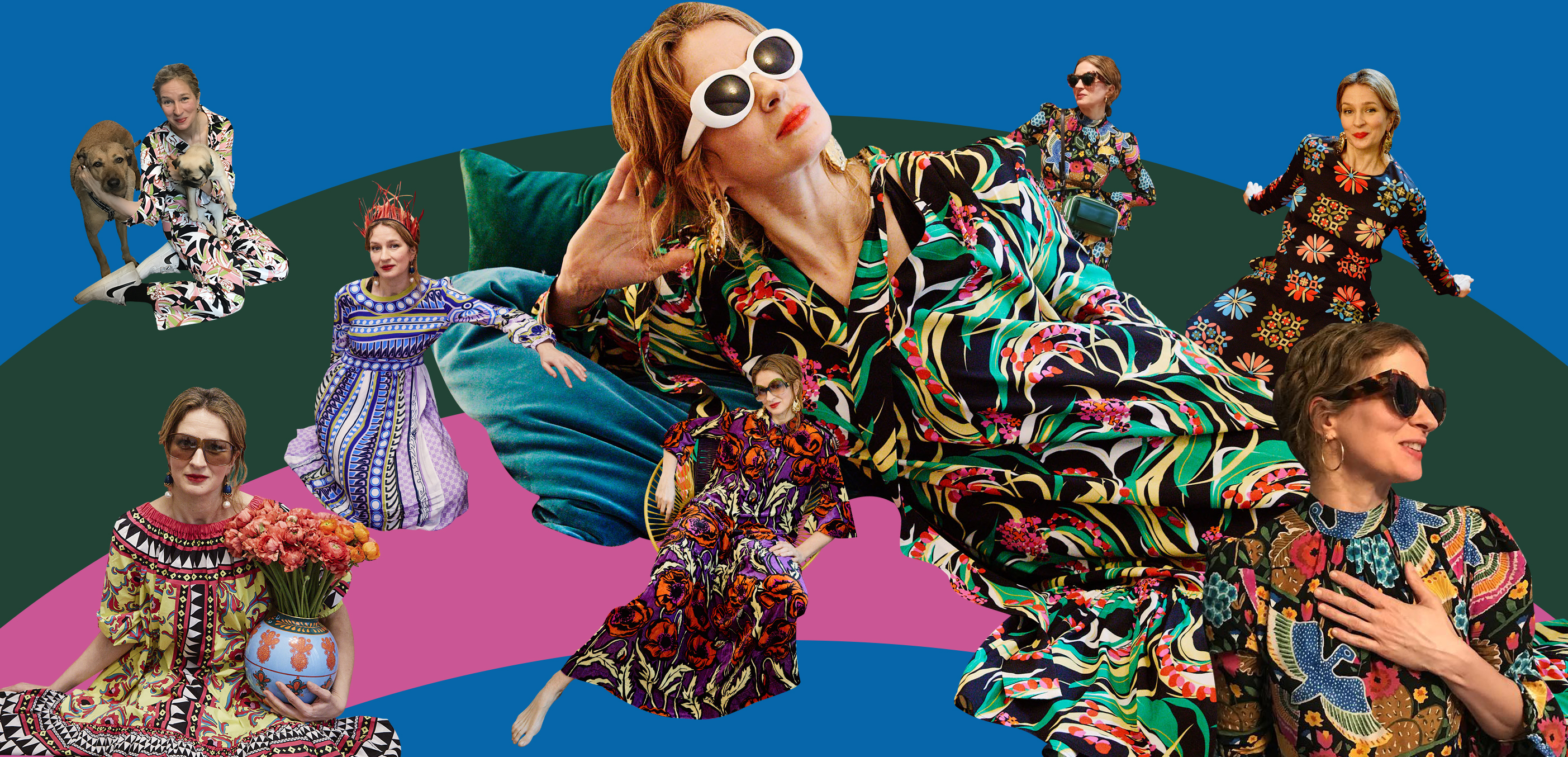 The thing you need to know about Miss Molly Molloy is that she laughs a lot. The Milan-via-London cool girl with a megawatt heart is giggling right now, over the other side of our Zoom call, reminiscing about one of her funniest moments in the four years she has been design director at La DoubleJ. "J.J. and I were shooting a lookbook at La Posta Vecchia hotel outside of Rome, it was an amazing hotel and J.J. always came on location with us to check every shot. We were staying down the road in a €40-per-night hotel in twin beds. One night I woke up to Pepper, J.J.'s pug, literally flying at me - she'd jumped off the floor and landed on my bed." She wipes her eyes. "We always have hilarious times."
The other thing you need to know about Molly is that to call her a total creative goddess would be an understatement. An alumni of Central Saint Martins in the Nineties, she cut her teeth at the London brands Bella Freud and Betty Jackson before moving to Milan to become the womenswear wizz at Marni,
helping to rocket the brand to world-class status as the go-to for thinking women of the creative world. Thirteen years later, in 2017, she left Marni to start Colville with Lucinda Chambers (the former fashion director of British Vogue), a pacey womenswear and lifestyle label now making strides for its gloriously off-beat designs and thoughtful, non-conformist rulebook. At the same time, this multitasking butterfly has worked her magic on every dress, print, plate and pop-up you see here at La DoubleJ. Each has a tap of her wand, a wave of London cool girl spirit, which she wears on her sleeve to the LDJ office via a uniform of red lipstick, a brilliant dress, statement shoes, gold hoops with her blonde curls tied back in a low bun, and - of course - a sense of humor that has made her one of the most liked people in the industry. As J.J. says: "This is a woman who epitomizes full spectrum creative power. Some people can only excel at one thing, not Molly. She can put her hand to everything, and she does it with joy and lightness."
Theirs is not only a creative partnership, but a love letter that has spanned many aperitivo hours, holidays, fancy dress parties and dog dates between Pepper and Molly's pooch, Dogger. The match was lit from the off. "I shall never forget sitting on J.J.'s sofa," Molly says. "We realised we are the same age, we both have two older brothers, and obviously we have the same sense of humour. I really liked her. That was it: she wrote to me the next day and I started a week later." It was 2017. "La DoubleJ was tiny. I think there were only eight or 12 of us and one design board. Every time J.J. and I would talk about something I would draw it and stick it on the wall, and J.J. was like, 'Oh my God, you can draw'. She loved it." You can picture the scene: two friends huddling over prints, testing silhouettes, furiously drawing, dogs darting around, while the brand's mini empire expanded at pace. "We worked on everything together, because there was just us.
First we chose the prints together, then we were designing more as the collection grew and grew. We would have some really nice afternoons choosing the fabrics of the dresses. The Visconti Dress was really beautiful. J.J. and I wanted to pass it in every single fabric before we realised we had 20 of the same dress." Testament to Molly's supreme versatility is the marked difference in design aesthetic of the brands she works her magic on. While trumpet sleeves, frills 'n' florals are order of the day at La DoubleJ, at Colville the take away is edgy silhouettes and masculine tailored coats. "La DoubleJ really appealed to my feminine side. I love all the prints, I love that girliness. Even at Marni I didn't get to do that. It feels like a London part of me." Firming wrapping her arms around both labels underlines Molly's collaborative spirit showing there is space in the design industry for difference.
"I'll always remember working on the Jennifer Jane Dress because J.J. was so overjoyed with it. She shrieked, 'winner winner chicken dinner!' when she saw it in the first fitting - it was her dress."

Four years, countless new dress designs, and four collections a year later, which has been her favorite La DoubleJ piece to work on? "I'll always remember working on the Jennifer Jane Dress because J.J. was so overjoyed with it. She shrieked, 'winner winner chicken dinner!' when she saw it in the first fitting - it was her dress. We've learnt a lot from each other. What's great about J.J. is her enthusiasm. I've loved seeing her business grow and give her my total respect for being a foreigner in another country, embracing the culture, constantly being positive and facing all the challenges in a really brave way."

As a Brit abroad, it's something she knows a little about. At home in Milan, Molly aperitivos at Bar Basso and Da Giacomo, eats at La Latteria, shops vintage Cavalli e Nastri ("very different to vintage in the UK") and buys furniture from Rossana Orlandi.
What does she treasure most about Italian culture? "I love the tradition of brioche and pasticcini on a Sunday morning - small cakes that you take to someone's house when you are visiting. It's very traditional to buy them on a Sunday. I love the way they wrap them up." She adds: "I think it's incredible that Italians are harder to get to know, they are less open, but when you get to know them you are in there. For example, I have been circling around the same park for nine years. All of a sudden, the other local dog walkers have accepted me, and now they are like 'ahhh' when I arrive. They don't make it easy for you, but when you get there they scoop you up. I love that." Molly stops. She laughs. "Pasticcini is the best thing ever." And we're giggling again.