Mastering The Art Of The Milanese Aperitivo
La DoubleJ's print-punching new homeware collection raises a rainbow-hued, hand-blown champagne coupe to the most tantalizing tradition in Italy: the aperitivo! Whether you're al fresco-ing in Los Angeles, hosting in Paris or sundowning in Sicily, let our porcelain plates, gorgissima serving platters, color-tastic champagne glasses and more deliver a delicious slice of la dolce vita straight to your soirée.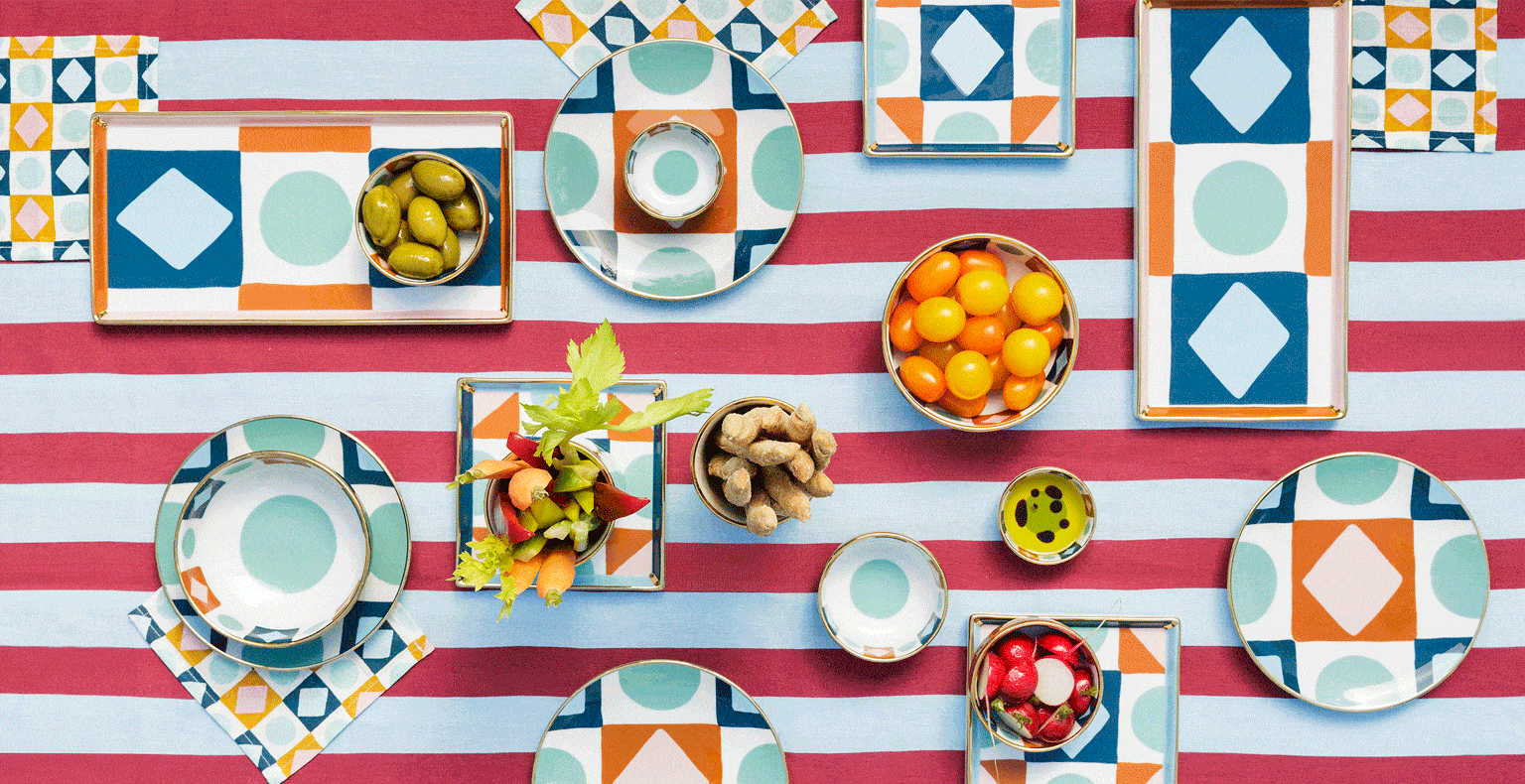 You might have guessed that we take the aperitivo tradition very seriously around here. From Milan to Naples to Puglia, when the clock strikes 7pm in Italy, champagne glasses clink, olives pop into mouths, bars swell and doorbells ring to celebrate aperitivo hour, and there's no-one who does it better than our very own J.J. Martin. Inspired by her great love of entertaining, our Aperitivo Homeware has been carefully considered from the slender Grissini Jar for your Italian breadsticks (use if for a pinzimonio, too!) to the hand-blown Tumbler Glasses for cocktails and Nesting Bowls perfetto for caprese, olives, almonds, guacamole and whatever else comes flying out of your kitchen. How to host aperitivo the Italian way? Read on, ragazze...
Though any Italian will tell you that the aperitivo is much more than just a cocktail, handing your guests one of La DoubleJ's Champagne Coupes filled with something sparkling as soon as they walk through your door is a sure-fire way to get the party started. There are more types of spritz in Italy than there are yachts sailing around the Amalfi, but our favorite for a hot summer's evening is the fresh, fruity and super quaffable Bellini.

Born in the legendary Harry's Bar in Venice, it's 1/3 cup of zippy blended white peach topped with 2/3 cup spumante, naturally served best in our rainbow-hued glasses hand-blown by Salviati in Venice. Our LDJ twist? Scatter bowls of citrus fruits topped with herbs and spices (lime with pink pepper, grapefruit with rosemary) across your home bar for your guests to add their own flavour to their tipple.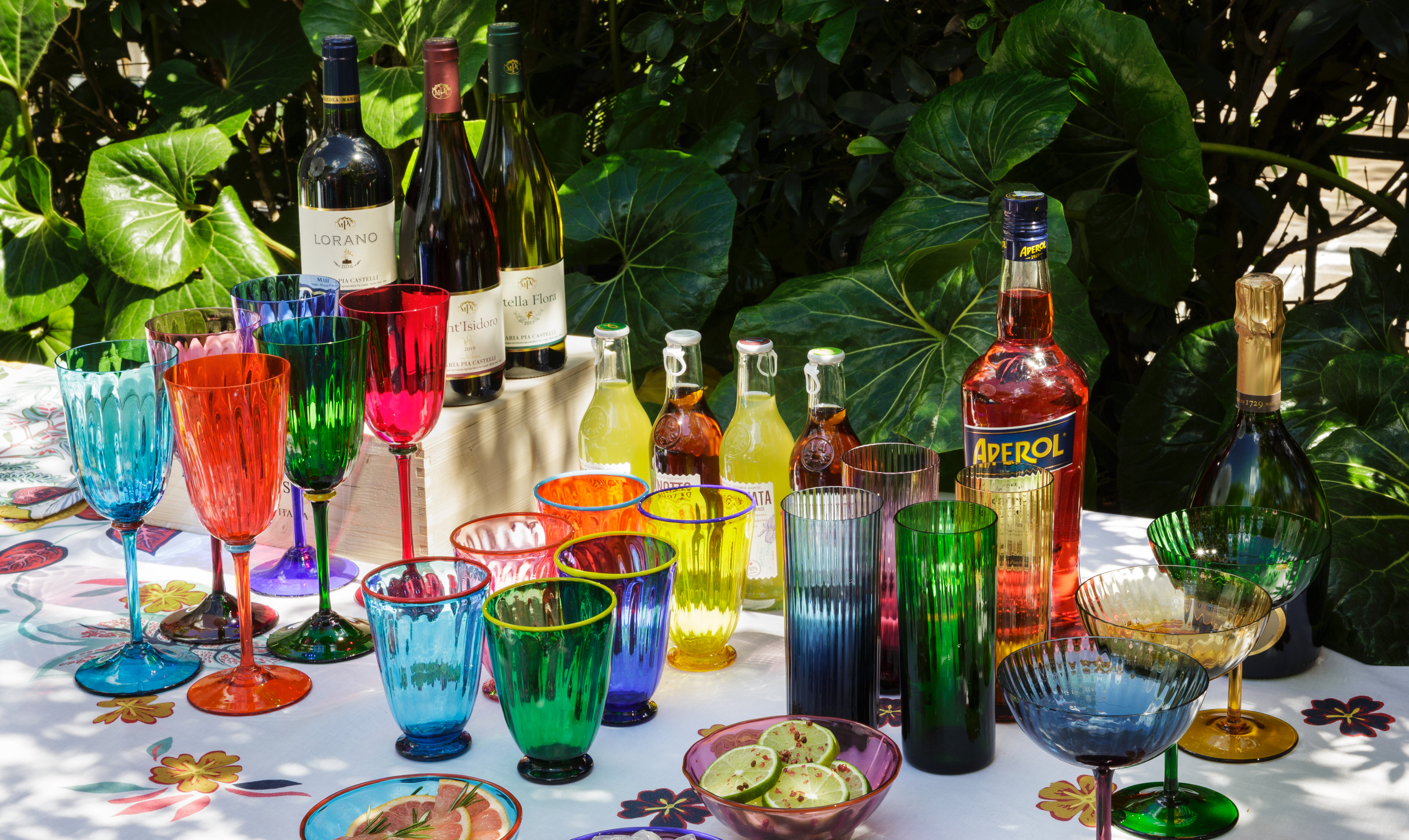 When it comes to wine, our new local favorite is Maria Pia Castelli, a biodynamic wine producer who hand-harvests grapes in the stunning Le Marche countryside. Maria's dry and full-bodied white Stella Flora is perfect with cheese, while the Sant'Isidoro rosé is a remarkable dark rosé that makes a great hostess gift. 
Not drinking? No problem. Line out Chinotto, an orange non-alcoholic drink with that bitter Negroni taste Italians love, by the Ligurian producers Niasco Portofino (please note the super chic bottles). Do as J.J. does and display your technicolor mix of LDJ's misty Tumbler Glasses on your living or dining table like a mini art installation - pop them in the freezer for a couple of minutes before your guests arrive to make sure their drinks are icy cold.
The pressure to serve glorious stuzzichini (morsels to accompany the drinks) is on. As our friend and bellissima Milanese chef Sofia Falchi says, "when Italian people eat, even if it's aperitivo, they always talk about the food they are eating." Luckily, as with all Italian dining, the emphasis is on the best fresh local produce you can find. Sofia's favorite aperitivo recipe lets the ingredients do the talking: fave e pecorino romano, otherwise known as fresh, uncooked broad beans served with hunks of aged pecorino cheese that will do all things sweet and salty to your palette, while leaving you plenty of time to slip into a fabulous dress.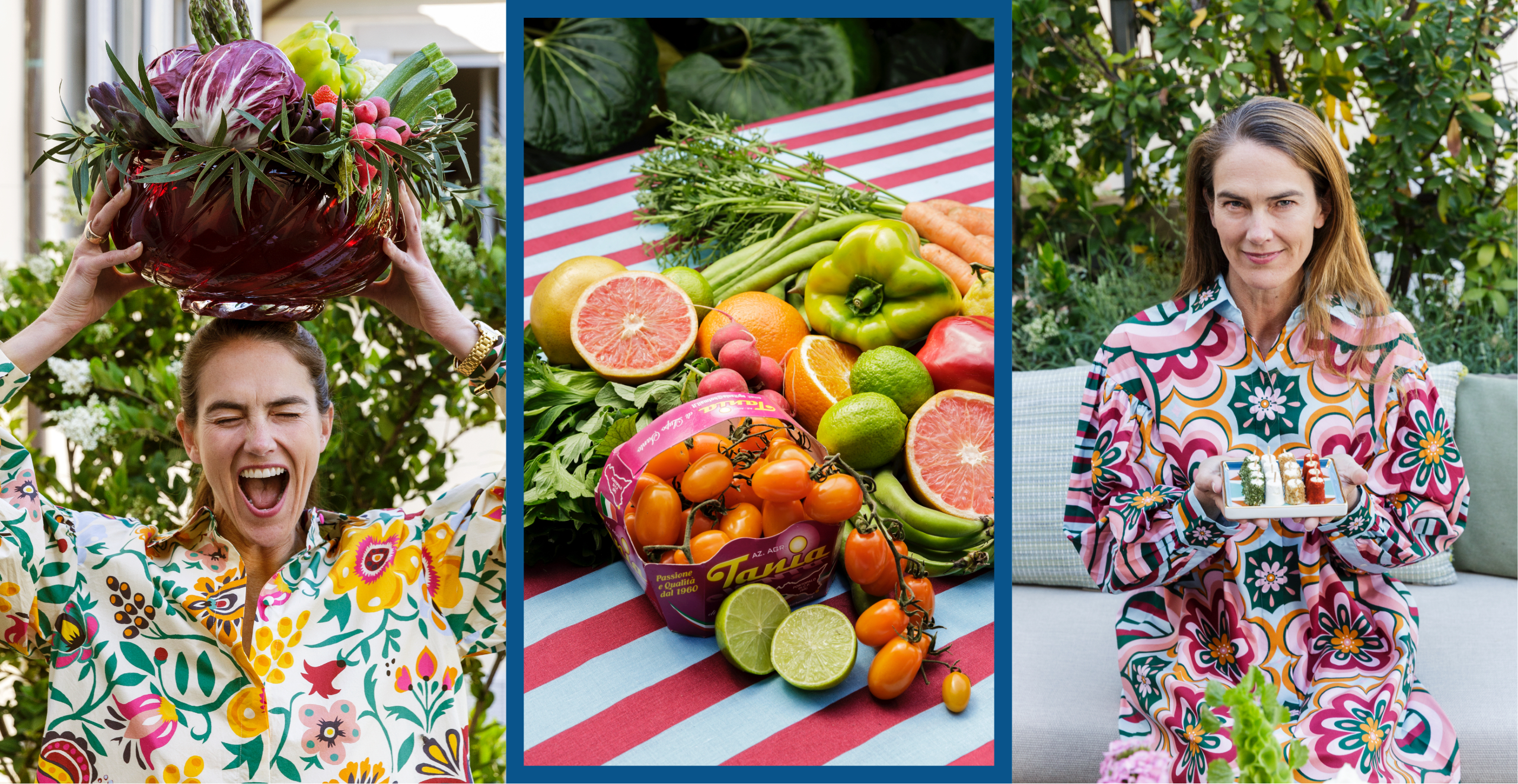 Also ticking the lip-smackingly fresh and time-saving boxes is pinzimonio, the Italian version of French crudités. Follow the Italian way and pick up the most seasonal products from your local market with the mantra the more color, the better. Radish, carrots, red pepper and celery all hit the spot - chop then cool in ice water for 30 minutes before serving to give more crunch and color. LDJ's set of three Nesting Bowls are, of course, the perfect pinzimonio vessels complete with a small bowl for your dipping oils. For which, Sofia suggests going classic: mix and whisk six tablespoons of the finest extra virgin olive oil (she recommends Torrerivera for its nutty, green taste) with two pinches of salt and a generous grind of black pepper. Pour your dressing into a bowl and add about 10 drops of balsamic vinegar. 
Aperitivo is nothing without cheese and bread: mini mozzarelline and ricotta topped with grinds of black pepper to be munched down in the same gulp as crusty taralli (the delectable Pugliese cracker) and grissini (served in our slender Grissini Holder, no less). For all of the above, plus organic wines, handsome pastas, mushrooms pulled straight from the ground and more, the under-the-radar Milanese delicatessen Terroir is a must-visit thanks to its top selection of small local producers.
What's left is the easy part, foods that you can pick up and simply empty onto La DoubleJ's print-punching Aperitivo Trays. Sacrilege though it may be, we've done enough olive tasting in our time to know the best comes down to two sorts: taggiasche olives, which are purple, tiny and have a naturally bitter flavor that Italians devour like popcorn, and olive di Nocellara, which are giant, green, juicy and sweet. If it smells amazing, it is. Salami can be easily left on LDJ's long Aperitivo Tray for guests to slice themselves. The best comes from the province of Piacentino (it's infused with red wine and nutmeg), which you'll find stocked alongside fantastic prosciutto crudo and fresh pasta at the Milanese institution Faravelli. But why not try sliced bresaola for something very northern Italian?
All that's left is to decide what to wear and who is on your great gorgeous guestlist. Buon appetito, babe. Cin Cin!
{{imageBlock}} {{addToWishlistBlock}} {{removeButtonBlock}}
{{nameBlock}}
{{priceBlock}}
{{badgesBlock}}
{{availabilityBlock}}
{{title}}
{{productTiles}}
Order summary
Products
{{lineItemsQuantity}}
{{pricesBlock.subtotalPrice.label}}
{{pricesBlock.subtotalPrice.value}}
{{taxMessage}}
{{dynamicPromotionBlock}}
Your basket is currently empty
{{name}}
{{badge}}
{{standartPrice}}
{{salesPrice}}
(

{{discountPercent}}

%

)
{{markup}}